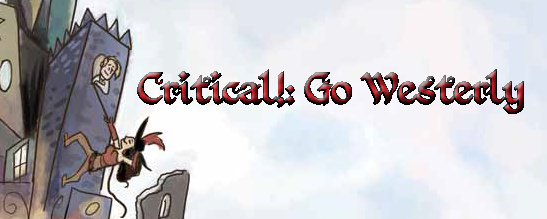 Critical!: Go Westerly
Critical!: Go Adventuring - Part 01
---
Trying to get the full use out of Itch.io.
Right now you can get the first adventure for Critical!: Go Adventuring called You All Meet in a Tavern! If you pick up the game, it now comes with an adventure. We're looking at including more as time goes on!

Synopsis:
"It's adventurer's night, and you've decided to head down to the White Griffon Tavern to meet some new people, do some networking, and generally try to get a leg up on this adventuring gig. You'll do a little quest, see if the people you meet up with work and maybe go on bigger quests.

Just then, there's a noise in the basement, and you've been given the quest to explore the basement! Find out what's happening underneath the city of Prend!"
Files
critical-adventure-01-yamiat.pdf
700 kB
Jun 07, 2018
Get Critical!: Go Westerly